This gluten-free blueberry banana flatcakes recipe was submitted by Queenella D. of St. Paul, MN! Here goes a creative way to have your flatcakes and blueberries with no gluten! Although this blueberry banana flatcakes recipe did not make the collection, it is sure to please flatcake and blueberry lovers! Thanks Queenella!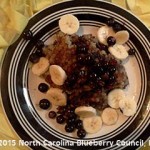 Combine wet ingredients in a small bowl with crushed blueberries, mix well using a wooden spoon.

Ccombine dry ingredients and butter, mix well.

Heat an oiled skilled or griddle on medium-high heat.

Scoop the batter into skilled using approximately 1/4 cup.

Flatcake is done when both sides are a darker golden brown.
Notes: Gluten Free Blueberry Banana Flatcakes batter is fragile and will break apart use a food turner to flip.
This delicious recipe is gluten and lactose free with no added sugar! Its easy and fun to make. Lets eat!