This recipe comes to us by way of author, blogger and cooking diva Jorj Morgan! Jorj blogs on entertainment, cooking, and North Carolina at www.jorj.com
Preheat oven to 375 degrees

In a large mixing bowl, combine the flour, sugar, baking powder, salt and butter. You can use your electric mixer if you wish but mixing by hand works, too.

In a separate bowl, mix half and half and the egg; fold in the dry ingredients until just combined. Add the blueberries and stir well, using a large spoon or spatula.

Coat a loaf pan with vegetable oil spray and pour in the batter. Bake for 30 minutes until the top of cake is golden brown and a toothpick inserted into its center comes out clean.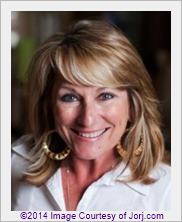 Everyone loves a simple recipe for blueberry cake. You can whip up a loaf of this sweet bread in no time flat—it mixes up nicely by hand or with a mixer. I like to enjoy this cake when I work in my garden, serving up slabs of it in clean coffee filters; hence the name, "sleeve cake!"
Like this recipe? Try Jorj's Blueberry Pie Muffins by clicking the link!