Blueberry-infused Salads Great Anytime of The Day!
Have A Salad For Breakfast, Dinner and Lunch!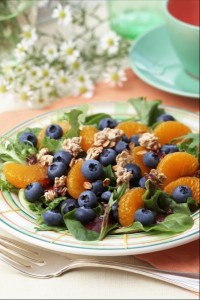 The North Carolina Blueberry Council works in partnership with the US High Bush Blueberry Council to share awesome ideas of how to creatively bring blueberries into your healthy diet. This week's recipe brings a Blueberry Breakfast Salad to your morning! This is an easy to make way to enjoy a light and green blueberry inspired salad for breakfast!
Getting Creative with a Blueberry Salad…
Well it just so happens that the webmaster, who samples all things blueberry when out and about, came across a blueberry inspired salad for lunch  a few days ago. This prompted a creative suggestion on how to easily change up this salad would be easy to build off of this easy blueberry breakfast salad or to change it up.
Substitute other fruit for the oranges
– Add thawed frozen peaches, fresh apples, cranberries, or strawberries which all are complimentary to blueberries.
Add spiced pecans or walnuts
Add Gorgonzola cheese
Need more protein, add roasted or grilled turkey or chicken breast!
Heck, just add them all!