Pancakes are better with blueberries
Blueberries and pancakes are a natural pair. Maple syrup and pancakes are also a traditional pair. All three together can be an over the top fun for your mouth experience. In pursuit of  having a blueberry state of mind, feast your eyes upon what came out of the semi-official NCBC digital media kitchen. (aka the webmaster's kitchen)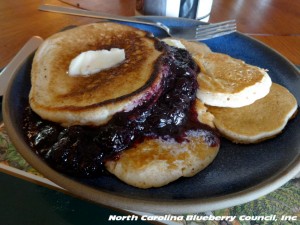 Blueberries with a side of Pancakes
John's Chunky Blueberry Reduction
Nothing really fancy here, but if you like blueberries, you don't need fancy. In any case, after you sandwich a few large spoonfuls on top and around your pancakes, drizzle a little real maple syrup for a touch of smooth sweetness.
How to:
In a small saucepan mix:
2 cups of Blueberries
*1/3 cup apple juice
*1/4 cup of pomegranate juice (optional)
Slowly reduce and mash a few times with a mash potato masher.
Don't be shy and remember this is blueberry reduction with a side of pancakes. Also, juicier is better because the goal is sloppy, blueberry-soaked pancakes.