Blueberries hold on to their powerful qualities even when dehydrated!
There are cases where the better blueberry for a recipe might be a dehydrated or frozen. In particular, certain kinds of cookies may have a better texture if dried blueberries are used. In the case of frozen blueberries, they can be substituted measure for measure in most baked recipes and no one will ever know the difference.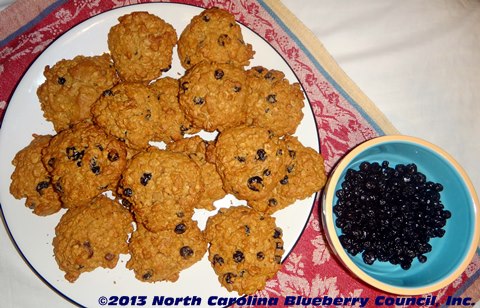 Just before this post was entered, the semi-official North Carolina Blueberry Council Experimental Kitchen, put dried blueberries to test against previous experiments substituting fresh and frozen blueberries for raisins in a favorite oatmeal cookie recipe. If you already can taste the results, just head straight for the recipe RIGHT HERE 
Substituting 3 to 4 ounces of dehydrated blueberries for 1/2 cup of raisins produced a very interesting cookie. The blueberries gave of fa subtle, but identifiable sweet smell while they were being stirred into the cookie batter. After baking, the blueberries remained chewy and again, injected a distinct, but not overpowering flavor into the oatmeal. Another tasty advantage of the dried blueberry was a lovely aftertaste that lingered long after the last cookie was gone!
So don't fret if you can't find enough fresh blueberries in your local store. Move on to the freezer or the dried fruit section of your favorite grocery store and grab a few bags of dried or frozen blueberries. Another benefit to having both dried and frozen blueberries on hand is that you can be spontaneous where as with fresh blueberries, you must use them up before they disappear!