Cottle Farm's Blueberries Spotted As Far Away As St. Louis!
…and the price is right on!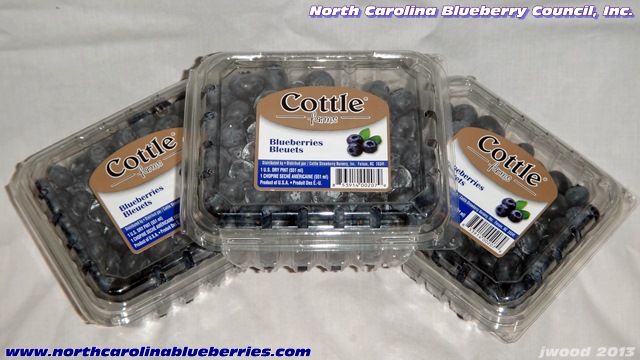 The reports that the heavy rains right before harvest impacted the yield in North Carolina are true, but the blueberries are making it to a store or farmer's market near you. The image above is of three pints of blueberries from North Carolina Blueberry Council, Inc. member Cottle Farms found at St. Louis' famous Soulard Market on June 14, 2013!
The price is always right, but even better now!
According to a recent report, only 52% of US households bought blueberries in 2012! Many folks suffer "sticker shock" in the off season which is understandable given $4 a pint for blueberries seems a poor investment compared to $4.00 a bag for apples. One apple seems a big deal compared to one blueberry!
But consider this…
By volume, one pint of blueberries worked into whole wheat pancakes can feed a whole family! That same pint turned into a delicious blueberry topping can take your ice cream desert over the top. Stir that pint into your favorite muffins and you have a dozen or more treats packed with one of the healthiest fruits around. The bottom line is that whatever the price, blueberries are an excellent nutritional value that don't pile on the calories. Blueberries are a fruit that can be used in baking, fresh in salads and don't forget the many dessert uses. By the way, those Cottle Farms blueberries were only $1.67 a pint (at the Soulard Market in St. Louis! (3 /$5)
Everything is better with North Carolina Blueberries!