Live Large Celebrate Blueberries with Cheesecake!
Blueberry Cheesecake: The Perfect Dessert To Partner With The Indy 500 Race
Two historic events collide on Sunday, May 26th, the Indianapolis 500 race and National Blueberry Cheesecake Day! Guess which one is older? If you guessed the sweeter celebration you would be right on!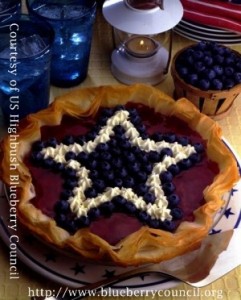 Cheesecake can be traced to the ancient Greeks and may have been a popular staple. Cato The Elder's "De Agri Cultura" includes recipes for two cakes, librum and placenta, for religious uses. Placenta is considered most like modern cheesecakes. Placenta had a separate crust, but was substantially different than modern cheesecakes. It is said that cheesecake was served to athletes during the first Olympics. Chances are if they liked it, they were not athletes four years later!
We at the North Carolina Blueberry Council, Inc. would like to think that Blueberry Cheesecakes are an "All American" dessert given that blueberries are native to North America! That makes Blueberry Cheesecake the ideal dessert to partner with your 97th Indianapolis 500 celebrations.
Red, White, and Blueberry Cheesecake Recipe
Since May 26th will be an All-American kind of day, get patriotic with your Indy 500 race celebration desserts!
Red, White, and Blueberry Cheesecake
Ingredients
8 sheets (about 13 x 14-inches each) thawed frozen phyllo dough
¼ cup butter or margarine, melted
2 packages (8 ounces each) cream cheese
½ cup sugar
1 teaspoon vanilla extract
2 eggs
2 cups fresh blueberries, divided
½ cup strawberry jelly
1 cup whipped heavy cream or nondairy whipped topping (optional)
Instructions
Preheat oven to 425°F
For crust: Grease a 9-inch pie plate
Set aside
On a flat surface place 1 sheet phyllo (keep remaining phyllo covered to prevent drying out)
Brush with butter
Top with another phyllo sheet
Brush with butter
Repeat with remaining phyllo and butter to make 8 layers
Using kitchen scissors, cut layers into a 12 to 13-inch circle
Carefully press circle into prepared pie plate
Gently fan edges
Bake until edges are just golden, 6 to 8 minutes
Cool slightly on a wire rack
Reduce oven to 350°F
In a medium bowl with an electric mixer, beat cream cheese, sugar and vanilla until light and fluffy
Add eggs
Beat until well combined
Fold in 1 cup of the blueberries
Pour into prepared crust
Bake until set, 40 to 50 minutes
To prevent over-browning of crust, gently cover with foil the last 25 minutes of baking
Cool completely on rack
To serve: In a small bowl beat jelly until smooth
Spread over cheese filling
Arrange remaining blueberries on top in star shape
Garnish with whipped cream, if desired
Recipe and images shared courtesy of the U.S. Highbush Blueberry Council!