Do you have a great blueberry recipe to share!?
We Want Your Blueberry Recipes for the 2013 Collection!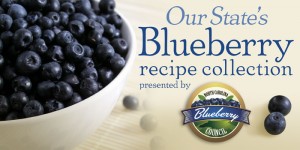 With blueberry season just a month a way, it is time to dig up your best recipes to feature North Carolina blueberries. In partnership with "Our State Magazine, we are asking Citizens from all over North Carolina to share their best blueberry recipes for the 2013 Blueberry Recipe Collection.
Submit Your New and Old Blueberry Recipes Now!
Whether it is time to share Grandma's best blueberry cobbler recipe or you just created a modern herb and blueberry marinade for roasting, submit by April 26th for consideration! Of those submitted recipes, the most creative will be selected, compiled and available beginning May 10, 2013.
Click Here To Submit Your Blueberry Recipe For the 2013 Our State Magazine Blueberry Recipe Collection presented by The North Carolina Blueberry Council, Inc.