Blueberries and Science: Clues That Say Eat More Blueberries
If you summed up the last five years of research on the health benefits of blueberries, there would one indisputable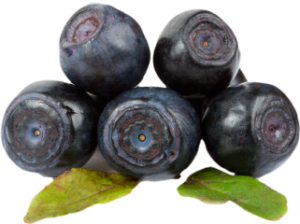 conclusion, eating blueberries offers a substantial chance to improve one's health.  We'd like to think that eating more blueberries is also a tasty chance anyone would take to lower their chances of a wide range of health issues!
Eating more blueberries doesn't have to be expensive either. There is blueberry treasure in your neighborhood grocer's freezer. Frozen blueberries are as nutritious as fresh blueberries and can be used in almost any recipe that calls for fresh blueberries. Even better, frozen blueberries are ready to store or use and generally cost under $4.00 a pound. At some major discounters, you can see the price of frozen blueberries approach $2.50 to $3.50 per pound when purchased in larger bags. That makes frozen blueberries an extraordinary value when it comes to spreading blueberry health around the family.
Current science has suggested that blueberries can be a part of reducing or preventing health issues related to cognitive function, erectile dysfunction, the immune system, digestive issues and more. Major university-based studies go even further stating in their studies that blueberries can actually improve vision, cognitive function and memory loss. (University of Florida IFAS News June 2016)
Back to an "indisputable chance" at better health, we think that this is reaching for the low blueberry on a highbush. Science says blueberries are a sure thing, but we will settle for something very easy to agree on, eating more blueberries may be a tasty way to improve your health.
The apparent health benefits of blueberries dovetails into one of the goals of the North Carolina Blueberry Council. Our primary mission is to help our growers get more and better blueberries from field to market. Helping stimulate the consumption of blueberries is part of that mission. The North Carolina Blueberry Council gets to promote blueberries, a tasty, low calorie and healthy fruit. If you eat more blueberries, it is a win-win situation from farm to fork!